Black Simmental Cattle--Breed of Excellence
As MONTANA BREEDERS of BLACK SIMMENTAL CATTLE, we have learned that simmental cattle are truly a "BREED OF EXCELLENCE". (See History and Description of Simmentals page.) We are now cross breeding with some of the top Angus bulls so that we get the best of both breeds. We raise black simmAngus cattle for sale because they have the genetics to provide cattle producers with calving ease, superior growth, maternal traits, and performance.
The American Simmental Association measures more traits than any other breed. Because of this, we are able to provide the most accurate EPDs from calving ease, birth rates, growth potential, maternal traits, and carcass traits. What are EPDs?
Because of the superior performance, tenderness, and marbling, more cattlemen are using simmental cattle all the time. Simmentals are the type of cattle that will put more dollars in your pockets in the fall.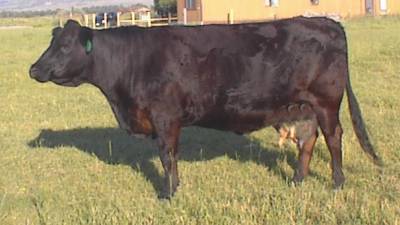 Our Goal
Our goal at Peck Simmentals [also see About Us ] is to provide quality cattle for sale for the purebred breeder, as well as cross breeders and the commercial breeder as well.
We continue to breed for small birth weights, fast growth, and carcass traits so that we can continue to provide the type of cattle that will make a great addition to anyone's breeding program.
Through our selective AI program, we now have generations of black polled simmental cattle out of such trait leaders as Black Irish Kansas, Black Mick, Circle S Leachman 600U, Franchise, GW Lucky Break, Legacy, Gambler, Daume Legend, Dream On; Triple C Invasion; TNT Jump Start; and SAV Pioneer.
PS Miss Mick E103
PS Ms Mick E103 was an Elite award winning cow. Her sire is Black Irish Kansas and her grand sire is Black Mick
She was a terrific producer. We have kept two of her daughters, and both of them have also produced excellent calves.